S&M Bikes is a bmx company that was created in mid 1987 by friends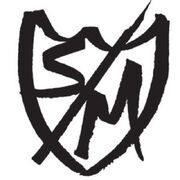 Greg "Scott" 
S
wingrover and Chris "Mad Dog" 
M
oeller. S&M Bikes was created to craft bmx bikes that were made to handle the abuse the founders and their friends were looking for. Similar to hoffman frames, S&M Bikes were made with taller people in mind, offering up to 21" freestyle frames, You can also get a frame custom made according to your measurements, though at more expense.
In early 1987, a then 16-year-old "Mad Dog," was causing a ruckus in the race scene and working as a test-rider for BMX Action Magazine. In other words, coming across plenty of products that left a lot to be desired. Swingrover, 19, was racing and dirt jumping while working at South Coast Bike Shop in Santa Ana, California. By the summer of 1987 the two decided to go into business with their own frame and fork – the K-9 D-Zine.
According to Moeller, their first offering was a mishmash of his three favorite frames at the time: "We worked from a Profile, my custom team-issued Privateer and a Robinson. It added up to a frame that could be raced well and ridden hard at the trails or on the street without falling apart. We just designed a cool bike for ourselves, gathered money and made two framesets. Our friends wanted them too, so we had 25 framesets made."
By the fall of 1987, S&M had replaced the K-9 D-Zine with Moeller's signature Mad Dog frame. In 1988 they went on to release the now legendary Slam Bar, and in 1989 the Dirtbike! Throughout 1989 and early 1990 as The Shield gathered a following in the BMX scene, Greg and Chris found it increasingly difficult to balance the books with their steady diet of BMX hedonism.
By the summer of 1990, Swingrover had taken a job at GT to help support his young family, and choosing to concentrate on his new career path, left S&M in Moeller's hands. In a van loaded with guys like Dave Clymer and John Paul Rogers, Chris zig-zagged across the country living the "BMX Lifestyle" a.k.a. sleeping on people couches, drinking their beer and riding as much as possible.
References
Edit
https://www.sandmbikes.com/  S&M's official website